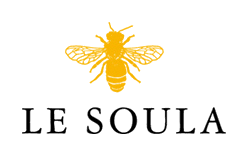 In the 1990s Roy Richards and Mark Walford were importing the Roussillon wines of Gérard Gauby into England. Gerard, convinced that vines in the cooler climate of the Fenouillèdes, high up in the foothills of the Eastern Pyrenees of South West France, had real potential for producing wine of great quality, suggested that they form a partnership to exploit them.

Together they bought vines in the best sites, and an old house in the high altitude village of Saint Martin de Fenouillet, in the heart of the vineyards. The house became Soula's first cellar and from the first vintage in 2001, the red and white wine began to establish its reputation for wines of purity, vitality and individuality.
By 2008, the project had outgrown its facilities in Saint Martin. So, the cellars and winery were moved down the mountainside to the old co-operative winery at Prugnanes, just off the D117, which they restored. Winemaker Gérald Standley, who had been working in Bordeaux, joined the team, initially alongside Gérard Gauby as co-gérant, and then taking on the running of the domaine.
In 2012 Roy and Mark sold their wine importing company to Berry Bros & Rudd, and Mark took over the management and marketing of Le Soula.
In 2016 Wendy Wilson, with considerable experience of managing in vineyards on the Loire and in the United States, took over from Gerald, and she now heads up our team at le Soula.
Our vineyards were cultivated organically since the outset, and from 2008 onwards have been farmed biodynamically.
Le Soula's wines can be found in many different countries across the world, in many of the finest restaurants, and on the lists of the most highly regarded importers worldwide.
Blanc/White
Red/Rouge
Orange wine